Hello fellow bloggers, readers and those who have accidentally stumbled upon here. Time for a new update :)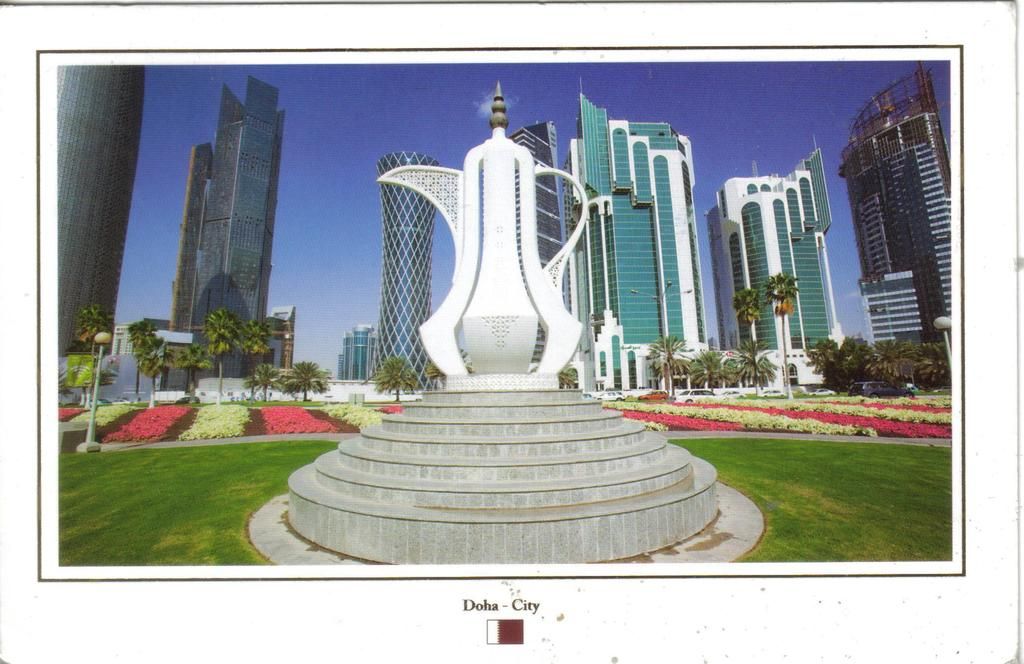 And today's update starts with this card that Jean Pierre sent me some years ago from Qatar's capital.
On this card you can see the dallah monument on the Corniche in Doha.
A Dallah is a traditional Arabic coffee pot used for centuries to brew and serve Qawha (gahwa), an Arabic coffee or Gulf coffee made through a multi-step ritual, and Khaleeji, a spicy, bitter coffee traditionally served during feasts like Eid ul-Fitr.
The Dallah has a distinctive form, featuring a bulbous body that tapers to a "waistline" in the middle and flares out at the top, covered by a spire-shaped lid topped with a tall finial and held by a sinuous handle. The most distinctive feature is a long spout with a crescent-shaped beak. This beak may be covered with a metal flap to keep the coffee warmer, but traditionally it is open to view the coffee as it is poured out.
A Dallah can be made of brass, steel, silver and even 24K gold for special occasions or used by royalty.
The origins of the dallah are unclear. Among the earliest references to a dallah as a coffee boiler in the modern shape date to the mid-17th century.The dallah plays such an important role in the identity of Persian Gulf countries that it is featured in public artworks and on monetary coins (as is the case here).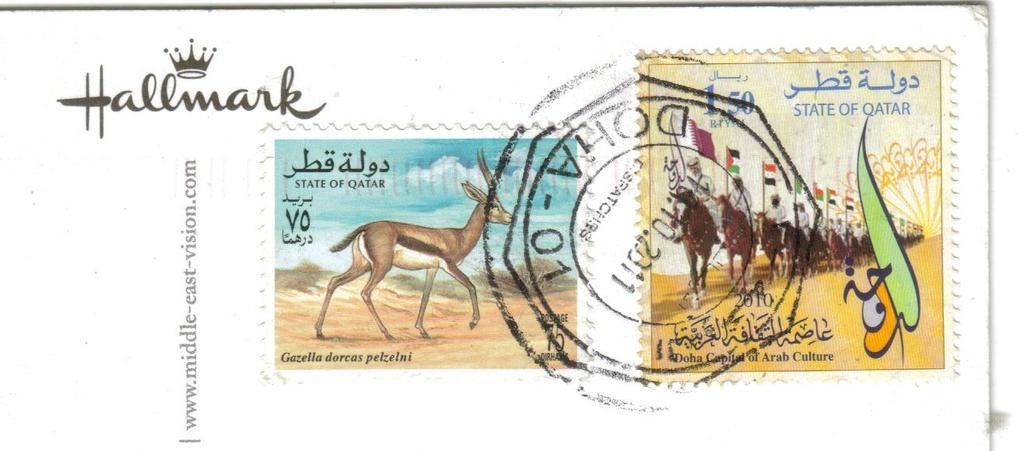 Jean Pierre used two lovely stamps on the card. The one on the right was issued in 2010 in a set of 4 stamps representing Doha as the capital of the Arab culture, while the other stamp was issued in 1996 in a set of 6 stamps featuring Gazelles and Beira Antelope, where this stamp shows the Gazella dorcas pelzelni.
btw, seeing that Hallmark sign on a card from Qatar is not something I would really expect :)
Thank you very much Jean Pierre!!